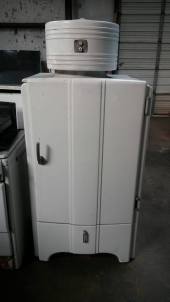 If you're an antiques enthusiast and are lucky enough to have found a treasure like a vintage refrigerator, then you've got to find the best refrigerator restoration specialist in town. That's where we come in. At Classic Appliance Restoration Specialists, we specialize in restoring vintage appliances, including refrigerators, and we're ready to put our expertise to the test for you. Our antique refrigerator restoration service is certain to be exactly what you need to bring your classic model back to its original beauty. 
With over four generations of experience in the appliance repair field, we've accumulated enough knowledge and skill to work with old and new appliances alike. We match our technical repair skills with our passion for vintage refrigerator restoration to bring you some of the most satisfying results around. At Classic Appliance Restoration Specialists, we fully support the idea of honoring the simpler days of yore, and we want to help by providing flawless fridge restoration for you. We're able to restore residential fridges from all of the classic brands, including:
Philco
GE
Gibson
Westinghouse
Nordge
Coca-Cola
Frigidaire
Coldspot
Kelvinator
Whatever you do, don't let an inexperienced refrigerator restoration technician near your unit. Without proper training and years' worth of hands-on experience, a fridge restoration specialist could actually do more harm than good. Thankfully, the professionals at Classic Appliance Restoration Specialists have decades of direct experience in the trade, making us ideally suited for the job. We're passionate about restoring the original charm of antique fridges, which is why we devote so much of our business to vintage refrigerator restoration projects. When you need an antique refrigerator restoration specialist in Dallas you can depend on for fabulous results, we're the name to know. Call or e-mail us today to learn more!
Vintage Refrigerator Repair
We also offer vintage refrigerator repair in addition to restoration. Even after you've restored an old unit to look like new, that unit is still subjected to the same wear and tear as every other appliance. That's why you need to have a reliable specialist like us on hand to repair any malfunction that could potentially arise. At Classic Appliance Restoration Specialists, our antique refrigerator repair services are designed to diagnose and fix problems unique to those older models that many other companies can't handle. Our diagnoses are always efficient and accurate, regardless of the age or brand of your unit, and that's what makes our vintage refrigerator repair services one of a kind. Give us a call today and put your delicate, antique fridge in our highly capable hands!