When it comes to your vintage appliances, you want a technician who's experienced and knowledgeable in the best ways to fix your antiques. So don't settle for a company that works mostly on modern appliances! Turn to Classic Appliance Restoration Specialists for repairs designed specifically for your vintage kitchen appliances. We've been in the business for over four generations, and we're proud to specialize in appliance restoration for the time-honored models of years' past. When you need complete vintage appliance restoration or appliance repairs for an antique stove that's malfunctioning, we have you covered. Call us now to learn more!
Turn to Classic Appliance Restoration Specialists for your vintage appliance repairs, and we'll save you the hassle and inconvenience of dealing with incompetent or unfriendly repairmen. When you want attentive customer service, expert workmanship, and an experienced team to boot, we are your local appliance service for vintage appliances.
Comprehensive Antique Appliance Repair Services
Serving the Dallas area since 1960, we provide a full range of appliance repair services for vintage models. Whether you need to fix a broken unit or restore an antique model for full functionality, we can handle it. We can work on the following major appliances:
Refrigerators
Freezers
Iceboxes
Stoves
Ovens
Ranges
Cooktops
With several decades of experience under our belts, you can be sure that our appliance repair service is one of the best in the region. Our ability to quickly troubleshoot and repair virtually any vintage appliance repair problem helps reduce your appliance downtime and restore functionality. And don't worry: we're familiar with a wide array of vintage appliance makes and models. Keep our phone number handy so you can call us at the first sign of trouble. We will diagnose and fix the problem efficiently and effectively, whether you need complete appliance restoration or basic repairs.
Professional Vintage Appliance Repair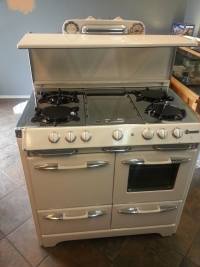 If you've successfully managed to hold onto a vintage refrigerator or oven and it's starting to exhibit signs of malfunction, don't fret: the professionals at Classic Appliance Restoration Specialists will provide you with the vintage appliance repair you need. While other appliance repair companies might only be versed in the makeup of contemporary units, we're knowledgeable about classic models of vintage appliances. You can rest assured that our highly experienced technicians will be able to diagnose, troubleshoot, and fix your vintage fridge or oven with complete accuracy. 
At Classic Appliance Restoration Specialists, we've been able to stay in business for more than four generations because we pay attention to what our customers need and we do our best to provide it. That's why we offer terrific customer service for all home appliance repairs. Call today to get started!