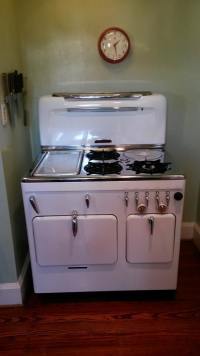 Today, Chambers stoves have a cult-like following of devotees who will sing their praises of Chambers any chance they get. We don't blame them! Chambers was—and still is—known for manufacturing top-of-the-line stoves and ovens, and it's no wonder why so many homeowners and restaurant owners want to refurbish Chambers units for their kitchens. If you're one of these savvy individuals, call Classic Appliance Restoration Specialists right away. We offer unbeatable Chambers stove restoration to customers throughout the Dallas area, and we use our serious expertise to bring them back to life as quickly as possible. With the help of our antique stove restoration services, you'll finally be able to get the most out of your cooking.
Did you know that Chambers stoves are known for having coils with some of the most uniform heating available? Did you also know that Chambers ovens can cook using retained heat, thus cutting down on gas consumption significantly? There are myriad benefits to Chambers stove restoration, and we want to bring them straight to you. At Classic Appliance Restoration Specialists, we'll draw on our four generations of experience in the trade to not only make your vintage stove look good, but to also make it run like new. Whether that means replacing a few parts or making some minor adjustments, you can rest assured that our team has your Chambers stove restoration under control. 
Schedule a Chambers vintage stove restoration job from us when you call today!