Wedgewood Stove Restoration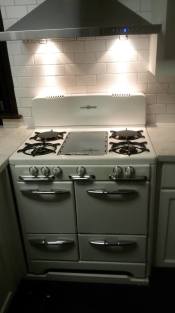 Have a Wedgewood stove that you'd like to refurbish for regular use? Call Antique Stove Restoration of Texas. We restore Wedgewood stoves for homes and businesses throughout the area, and we're eager to help you get your model looking as good as new again. From replacing porcelain and chrome finishes to fixing broken mechanical parts, our comprehensive stove restoration service will make you forget how many decades have passed since it was built. After we've done our jobs, your Wedgewood stove will work as well as any brand-new unit but with twice as much charm. 
At Antique Stove Restoration, we have over four generations of experience performing vintage stove restoration projects. In that time, working with classic appliances like Wedgewood stoves has become second nature. For that reason, we're able to deliver the kind of first-class craftsmanship that only antique stove restoration aficionados like you can appreciate. Enjoy the fine looks and one-of-a-kind performance of an antique Wedgewood stove by setting up an appointment! Call or e-mail us today to get started in Dallas and beyond.
Antique Stove Restoration
Wedgewood Stove Repair